Keith Yarwood
Attorney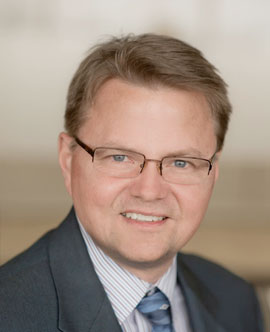 "My grandfather died of a work-related injury more than 60 years ago while working as a high school janitor. All my grandmother had was the shack they owned along the railroad tracks in their small northeast Iowa town. She would have lost that if it had not been for the help of friends and family – and the town's only lawyer who helped her get the benefits to which she was entitled."
Keith practices exclusively in the area of workers' compensation in Missouri and Kansas. Before joining Edelman & Thompson in 2002, he had a career as an award-winning journalist, and worked as an assistant attorney general for the state of Missouri. He has a degree in journalism and an MBA from the University of Missouri in Columbia and a law degree from the University of Missouri-Kansas City.
He is a member of the Order of the Barristers, the Kansas and Missouri Bar Associations, and the Kansas City Bar Association. Keith is on the National Trial Lawyers list of Top 100 Trial Lawyers.
Keith has served as a trustee of his church and as a member of its council. He lives in Kansas City with his wife and son.
Contact
Email: kyarwood@etkclaw.com
Direct: (816) 994-8302