Bicycle Accident Lawyer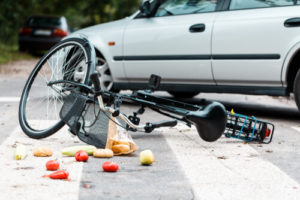 Were you hurt in a bike accident in Kansas City or surrounding areas of Missouri and Kansas? If a negligent act on the part of a driver caused you harm, you could be owed significant compensation.
The experienced bike accident lawyers of Edelman & Thompson have seen firsthand the injuries that cyclists suffer when they are struck by a vehicle. With little to protect you from the impact of the collision and the ground, you could be dealing with costly medical expenses, lengthy rehabilitation, and possibly disabling conditions.
When at-fault drivers and their insurance companies try to avoid liability or minimize what they pay out, we are there to help you hold them accountable. You shouldn't have to pick up the pieces of your life and pay your medical expenses on your own, nor should your family struggle financially as you struggle to return to work. Let us help you seek the compensation you are owed and help you pursue the justice you deserve.
The attorneys at Edelman & Thompson have helped more than 7,500 people injured in Missouri and Kansas since 1994. You can have our attorneys discuss your rights as soon as you call us or contact us online to receive a free consultation.
Biking in Kansas City
Bike KC is the Kansas City, Missouri, on-street bike plan, and it has resulted in numerous improvements in recent years. The city incorporated buffered bike lanes and green bike boxes along Grand Boulevard from 5th Street to 20th Street as part of the Downtown Bike Loop project in October 2017, and adjacent neighborhoods were connected the following spring.
In June 2018, crews completed roadway striping for bike lanes and other safety improvement markings along Benton Boulevard from Cleaver Boulevard to Truman Road. The following month, the city constructed its first parking-protected bike lanes on Armour Boulevard from Broadway Boulevard to The Paseo.
While Kansas City is moving toward making the city more accessible to bicyclists, riders still face many dangers when operating in the city or surrounding areas. Bicycles share most roads with motor vehicles, and negligent drivers are often at fault for many bicycle accidents.
How Our Bike Accident Lawyers Can Help You
One of the first things you should know about Edelman & Thompson is that we represent clients on a contingency fee basis. This means that you will not pay us anything unless and until you receive a monetary award.
Our firm will cover all the initial costs of your legal action. We typically charge a rate of 25 percent for work injuries or 33 ⅓ percent in other cases, both of which are much less than the 40 to 50 percent charged by some other law firms.
Edelman & Thompson was rated No. 1 in Kansas City jury verdicts by the Kansas City Jury Verdict Service (Most Plaintiffs' Personal Injury Jury Verdicts, 2012-2017). We have recovered over $500 million settlements and verdicts for our clients.
Ron Edelman is licensed in both state and federal courts in Kansas and Missouri, and he has been recognized as a Top 100 civil litigator by the National Trial Lawyers Association. James Thompson has secured enough multiple million and multi-million-dollar verdicts and settlements to earn membership in both the Million Dollar Advocates Forum and the Multi-Million Dollar Advocates Forum.
Edelman & Thompson can begin an independent investigation to help prove the cause of your accident and identify all possible liable parties. Our firm will work to negotiate for a fair and full settlement to your case, and we will not be afraid to file a lawsuit if the insurance company does not agree to a satisfactory offer.
Compensation for Bicyclists Hurt in Crashes
A victim who is successful in a lawsuit could be awarded compensatory damages, which are often some combination of economic damages and noneconomic damages. Economic damages refer to monetary losses that can be calculated and proven, while noneconomic damages are much more subjective.
Some of the most common kinds of economic damages include lost wages, medical bills, and property damage. Noneconomic damages may consist of disfigurement, pain and suffering, and emotional distress.
Another kind of damages that could also be awarded in a limited number of cases is punitive damages or exemplary damages. A punitive damage award is not intended as punishment for defendants who have engaged in particularly reckless misconduct, such as drunk driving.
What to Do If You Were Hit by a Car While on Your Bike
Bicycle accidents usually occur suddenly and unexpectedly. The immediate aftermath can be extremely stressful and confusing for victims.
The first thing for a person to do after any bike crash is to get medical attention. This is true even when an individual does not initially believe they were hurt. Keep in mind that not all injury symptoms appear right away. Some very serious conditions may not cause symptoms but could cause serious complications if left untreated.
If it is possible at the scene of your accident, take as many pictures as you can of the crash scene. Be sure to get photographs of everything that was involved, from people to vehicles to other notable factors, such as obscured road signs or skid marks. Take pictures from lots of different angles and distances. You can never have too many photographs of the accident scene.
Get the names and phone numbers of witnesses to your accident. If you are unable to do this yourself, ask a friend, family member, or neighbor if they can do it for you.
Do not discuss your accident with anybody, even friends or family members. You should be especially careful about what you share on social media websites, and never make a recorded statement to an insurance company or claims adjuster.
Help After a Hit-and-Run Bicycle Accident
Kansas and Missouri state law both make leaving the scene of an accident a criminal offense. Leaving the scene is more commonly known as a hit-and-run accident, and these crimes are usually felony offenses when the accidents result in injuries to bicyclists.
No matter the reason a driver might have for leaving the scene of a bicycle accident, a victim should contact a local law enforcement agency quickly. Police will usually be able to conduct much broader searches of the areas around crashes than victims could accomplish on their own.
A lawyer may also be able to help locate a possible hit-and-run offender. The attorney might be able to work with a police department and conduct their own interviews of witnesses and use motor vehicle records to locate offenders.
In many cases, a hit-and-run driver is never found. However, you may still have options for pursuing compensation. The uninsured motorist (UM) coverage in your auto policy may cover your injuries even though you were riding a bicycle at the time of the crash. Other members of your household, such as a child or spouse, may likewise be entitled to UM benefits after a hit-and-run bicycle crash.
Common Causes of Bike Accidents in the Kansas City Area
We have represented clients whose accidents have occurred for many different reasons. The most common causes of bicycle accidents include:
Distracted driving accidents
Sideswipe accidents
Right-turn or left-turn accidents
Head-on collisions
Failure-to-yield accidents
Drunk driving accidents
Intersection accidents
Some bike accidents do not involve automobiles. Crashes may be the result of mechanical issues with bicycles. If a bicycle part was defective, then a manufacturer could be liable for your injuries. If negligent repairs led to your accident, then a maintenance company could be liable. If a rented bike was not properly maintained, the rental company could be responsible.
Bicycle crashes can lead to numerous severe injuries. Some of the most common kinds of injuries suffered in these accidents include:
Paralysis
Spinal cord injuries
Fractures
Traumatic brain injuries
Sprains
Internal organ injuries
Neck injuries
Nerve damage
Muscle strains
Road rash
Certain cases will result in fatal injuries, and the deceased bicyclist's family members could be able to file a wrongful death lawsuit against the negligent party.
How Common are Bike Accidents?
The Governors Highway Safety Association report on bicyclist safety showed that bicyclist deaths increased by 16 percent in the United States. According to the National Highway Traffic Safety Administration, the 840 bicyclist deaths accounted for 2.2 percent of all traffic fatalities in one recent year.
Bike crashes occur with disturbing regularity in both Kansas and Missouri. Many cases result in injury or death.
The Kansas Traffic Crash Facts from the Kansas Department of Transportation showed that 333 bicyclists were involved in crashes in one recent year. Five bicyclists were killed, and 298 were injured.
The Missouri State Highway Patrol reported that bicyclists were involved in 570 total crashes in a single year. Nine crashes were fatal, 493 people were injured, and 89 accidents involved property damage only.
Bicycles are growing increasingly common all over the United States for a variety of reasons. Some people are seeking more economical ways of getting to and from work, while many other people are simply taking steps to improve their physical fitness.
Contact a Bike Accident Lawyer Today
If you sustained serious injuries or your loved one was killed in a bicycle crash in Kansas or Missouri, do not wait to seek legal representation. You will want to make sure that you have an experienced lawyer on your side for help pursuing every dollar of compensation you are entitled to.
Edelman & Thompson will meet with you in your home or hospital room if you cannot visit any of our five offices in the Kansas City area. Call us or contact us online now to receive a free consultation.
*Kansas City Jury Verdict Service; Most Plaintiffs' Personal Injury Jury Verdicts (2012-2017)