Dog Bite Lawyer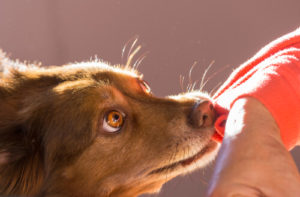 Dog Bite Attorneys in Kansas and Missouri
A dog attack can transform a victim's life in a traumatic instant. Victims may suffer serious injuries that require extensive medical treatment. Some victims – usually children – may even die from a dog attack.
After anyone has been bitten, they may be forced to deal with physical and emotional scarring that can last a lifetime.
While many adults are bitten by dogs each year, even more children suffer from these dangerous attacks. According to the American Veterinary Medical Association (AMVA), 60-75% of those bitten by dogs are under 20 years old, with the highest percentage of that group being children 5 to 9 years of age.
The dog's owner is usually responsible for injuries caused by their pet. Victims may be able to seek compensation through a personal injury claim. What often complicates this issue for many people, however, is the fact that the dog's owner is often a family member, friend, or neighbor.
In truth, most dog bite claims will be covered by a homeowner's insurance policy, which means the money won't come out of the dog owner's pocket. However, the insurer will likely do whatever it can to pay out as little as possible on the claim. That's why it is so important to contact an experienced dog bite lawyer to seek the full compensation that you are owed.
Edelman & Thompson represents dog bite victims in the Kansas City metropolitan are on both sides of the state line. We have five convenient office locations to serve you, but if you're unable to come to us, we'll come to your home or your hospital room. Call us or contact us online to set up your free consultation and get your questions answered.
Who Can Be Held Responsible for a Dog Bite?
In most instances, a dog's owner will be liable for the damages caused by a dog bite. It may be possible that other parties could be liable in other situations.
For example, any kind of keeper or caretaker could be liable for the failure to restrain a dog. Sometimes a property owner or landlord could be liable for allowing a dangerous dog onto certain property.
What is the Burden of Proof in a Dog Bite Case?
In both Kansas and Missouri, owners and possessors of dogs may be held liable under a common law negligence standard. This means that the owner or possessor failed to take reasonable steps to prevent the attack, or failed to warn the injured of a dog's dangerous propensities. The injured party generally has a duty to prove that the owner knew or should have known of the dangerous propensities of the dog, but failed to take steps to prevent the attack or warn the injured party. This is commonly referred to as the "one-bite" rule. An owner who knows that the dog has bit others in the past will generally have a duty to take steps to prevent any further attacks. The failure to do so may result in a finding of negligence against them.
Both states also recognize the doctrine of negligence per se. According to this legal doctrine, a defendant who is in violation of a state law or local ordinance may be liable for any harm resulting from that violation. In both Kansas and Missouri there are many local ordinances that provide the basis for such a legal action. These are generally known as "leash laws." For example, Section 14-33 of the Kansas City, Missouri general ordinances requires that owners leash their dogs in public spaces. A dog owner whose "unleashed" dog injures another on public property may be responsible even where that dog has not previously attacked or bitten anyone.
Missouri law also imposes strict liability on dog owners and possessors for injuries resulting from bites. Under Section 273.036 of the Missouri Revised Statutes, the owner or possessor of any dog that bites a person without provocation while that person is on public property, or lawfully on private property, including the property of the owner or possessor of the dog, is automatically liable for damages suffered by the person bitten, regardless of the former viciousness of the dog or the owner's or possessor's knowledge of such viciousness.
Compensation for Injuries from a Dog Bite
Many dog bite cases are resolved through settlement negotiations rather than a trial. However, it is important that you retain counsel to conduct a thorough investigation of all of the facts. This should be done immediately after the injury in order to prevent critical evidence from being altered or destroyed. This investigation would include a determination of the animal's history through public records including former reports from the police and animal control regarding the animal's past history of attacks.
As in other personal injury cases, the damages recoverable against a dog owner and their insurance carrier include both economic damages and non-economic damages. Economic damages generally include such items as lost wages, medical bills, loss of future earnings capacity, future medical bills, and possibly property damage. Non-economic damages typically consist of such items as pain and suffering, loss of enjoyment of life, emotional distress, or loss of a family member's services or consortium.
Missouri and Kansas do not have any limitations on damages in dog bite cases, assuming a death does not result. Our attorneys will advise you regarding all potential damages which you may recover in a dog bite case, including the non-economic damages allowable.
How Our Dog Bite Lawyers Can Help You
Edelman & Thompson has secured more than $500 million in settlements and verdicts for over 10,000 people injured in Missouri and Kansas since 1994. Over the last 7 years our lawyers have obtained more jury verdicts in Kansas City area courts than any other law firm. This is based on official statistics from the Kansas City Jury Verdict Service. Over the last 5 years Edelman & Thompson attorneys have won more awards in the Kansas City, Missouri Workers' Compensation Division than any other law firm. This is based on records from the Missouri Division of Workers' Compensation.
Many dog bites cases involve both a work injury claim and a claim against the dog's owner. In these situations, we are able to recover compensation for our client from both the workers' compensation insurance carrier and the dog owner's insurer.
Ron Edelman, who is licensed in both state and federal courts in Kansas and Missouri, has been recognized as a Top 100 civil litigator by the National Trial Lawyers Association. He is a member of the Missouri Bar, the Kansas Bar Association, the American Trial Lawyers Association, the Workplace Injury Litigation Group, the Kansas Trial Lawyers Association, the Missouri Trial Lawyers Association, and the Kansas City Bar Association.
James Thompson is a member of the Kansas City Bar Association, the Missouri Bar, the United States Supreme Court Bar, the Federal Court Bars in Kansas and Missouri, the American Association for Justice, and the Missouri Association of Trial Attorneys. His record of multi-million-dollar verdicts and settlements has earned him exclusive membership in both the Million Dollar Advocates Forum and the Multi-Million Dollar Advocates Forum.
You may be concerned about how you will be able to afford an attorney for your dog bite case. With Edelman & Thompson, you do not need to worry. We take all of our cases on a contingency fee basis which means that we do not get paid until we win your case. The percentage fee on a dog bite case settlement is typically 33 ⅓  percent, much less than the 40 to 50 percent charged by other law firms. We also advance all of the expenses associated with investigating the case, including the expense of conducting a thorough investigation of the animal's history.
Edelman & Thompson is committed to seeking a fair and full settlement for your injuries. If the insurance company is unwilling to pay what is fair to compensate you for your injuries, we will never hesitate to file a lawsuit or take your case to trial if necessary.
Statute of Limitations on Dog Bite Claims
As with most personal injury claims, Kansas imposes a 2-year statute of limitations from the date of the injury. In Missouri, the time limit to file your case in court is generally 5 years from the date of injury.
As with all statutes of limitation, there can be exceptions. For example, a minor child may have additional time to file their claim. Even in such cases, however, you should not delay in seeking legal help. It is critical to contact a lawyer immediately after the injury to ensure that a proper investigation is made, and that all of the relevant evidence is preserved until final resolution of the case.
Injuries Caused by Dog Attacks
According to the Plastic Surgery Statistics Report from the American Society of Plastic Surgeons, 28,079 people underwent reconstructive procedures related to dog bite repair in one recent year.
Possible injuries suffered by dog bite victims can include:
Neck injuries
Amputation
Infection
Eye injuries
Disfigurement
Facial injuries
Puncture wounds
Fractures
Nerve damage
According to the Centers for Disease Control and Prevention, more than half of the 4.7 million annual dog bite victims are children. A statistical brief from the Healthcare Cost and Utilization Project reported that there were 316,200 emergency room visits and 9,500 hospital stays related to dog bites in one year – or an average of 866 ER visits and 26 hospitalizations a day.
The 501(c)(3) nonprofit organization and public education website DogsBite.org reported that breeds of dogs involved in fatal attacks on humans from January 2005 to March 2018 included:
284 Pit Bulls (65.6 percent)
45 Rottweilers (10.4 percent)
20 German Shepherds (4.6 percent)
17 Mixed-Breeds (3.9 percent)
15 American Bulldogs (3.5 percent)
14 Mastiffs or Bullmastiffs (3.2 percent)
13 Huskies (3.0 percent)
9 Labrador Retrievers (2.1 percent)
7 Boxers (1.6 percent)
6 Doberman Pinschers (1.4 percent)
4 Malamutes (0.9 percent)
4 Golden Retrievers (0.9 percent)
4 Heelers (0.9 percent)
3 Cane Corsos (0.7 percent)
3 Chow Chows (0.7 percent)
3 Wolf Hybrids (0.7 percent)
2 Presa Canarios (0.5 percent)
2 Akitas (0.5 percent)
2 Australian Shepherds (0.5 percent)
2 Belgian Malinoises
Contact a Kansas City Dog Bite Attorney Today
Did you or your loved one sustain severe injuries because of a dog bite in the Kansas City area? Make sure that you contact the law firm of Edelman & Thompson as soon as possible. We understand the stress and strain that victims and their families are forced to endure after a vicious dog attack.
People often are not aware that they do not have to pay for costly medical expenses out of their own pocket, and they may not know that they don't have to "sue" their family members or friends personally to collect the financial compensation they need.
When you turn to an experienced dog bite attorney at our firm, we'll make sure that you understand your rights and every legal option available to you. We will work hard to make sure that you pursue the full compensation you are owed, even if that means taking the fight to reluctant insurance companies or other entities. The bottom line is: You should not have been hurt by someone else's pet, and you shouldn't have to worry about how to pay for the costs associated with the attack.
Whether you were bitten in Kansas or Missouri, we have the resources necessary to make sure that you receive all of the compensation which you are entitled to and which you deserve. Call us, or contact us online, for a free consultation. Edelman & Thompson has five offices throughout the Kansas City metropolitan area to serve you. If you cannot come to one of our offices, we will come to you. Our lawyers are more than happy to visit you at your home or in the hospital.