Nursing Home Abuse and Neglect Cases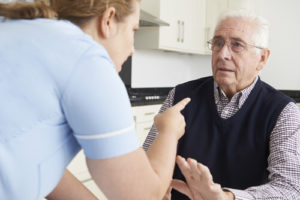 The decision to place a loved one in a nursing home or assisted living facility is never easy for any family. Most families invest significant time into researching the possible locations that would provide the best care.
You have a right to expect that the facility you choose will give your loved one proper care and will treat them with the respect they deserve while providing a safe environment. If the nursing home staff or management breaks the trust you've placed in them and subjects your family member to abuse or neglect, you have the right to take immediate legal action to protect them and others.
The nursing home abuse attorneys of Edelman & Thompson firmly believe that no amount of abuse – mental or physical – or neglect should be tolerated. We provide compassionate and caring service for our clients but will aggressively deal with the at-fault parties and their insurance companies.
We represent clients in communities all over the greater Kansas City area in both Missouri and Kansas. We are here to provide you and your family the quality representation you need on your side. As one of the city's oldest and most respected injury firms, we have the experience and resources to take on elder care facilities large or small.
Call us or contact us online to schedule a free consultation about your best legal options for protecting your loved one and seeking justice on their behalf.
How Our Attorneys Will Stand Up for You and Your Loved One
The law firm of Edelman & Thompson has helped over 7,500 injured people in Missouri and Kansas since 1994. This includes settlements and verdicts in many claims against nursing homes for neglect and abuse. When you contact Edelman & Thompson, we will immediately commence an independent investigation to determine the cause of your loved one's injuries, collect key evidence, and identify all potentially liable parties.
Our firm has recovered more than $500 million settlements and verdicts for our clients. Over the last 7 years Edelman & Thompson has obtained more jury verdicts in Kansas City area courts than any other personal injury law firm.  This is verified through the statistics of the Kansas City Jury Verdict Service.
Ron Edelman has been recognized as a Top 100 civil litigator by the National Trial Lawyers Association. James Thompson is a member of both the Million Dollar Advocates Forum and the Multi-Million Dollar Advocates Forum, for which membership is limited to attorneys who have secured million or multi-million-dollar verdicts or settlements.
Edelman & Thompson also provides legal representation on a contingency fee basis. In other words, you pay absolutely nothing unless and until we win your case.
How to Report Nursing Home Abuse
Our law firm can help you alert the proper authorities about the abuse or neglect your loved one has suffered in a care facility in Kansas or Missouri.
The Kansas Department for Aging and Disability Services (KDADS) licenses and regulates long-term care facilities. It is responsible for investigating allegations of abuse, neglect, exploitation and failure to provide adequate care and services to residents in adult care homes. KDADS operates a toll-free complaint hotline for consumers to file complaints, and you can call 1-800-842-0078 between 8 a.m. and 5 p.m., Monday through Friday.
The Kansas Long-Term Care Ombudsman Program is a statewide advocacy organization that investigates and works to resolve complaints made by or on behalf of residents of long-term care facilities. The Kansas Long-Term Care Ombudsman Program is comprised of 10 staff members and over 130 volunteers.
The Attorney General's Medicaid Fraud Control Unit also investigates fraud committed by health care providers. The Attorney General's Office recovers funds improperly billed to Medicaid and prosecutes individuals exploiting the program.
In Kansas, Adult Protective Services (APS) handles reports of abuse, neglect or exploitation of adults. APS provides intervention for adults unable to protect themselves or who have physical, emotional or mental impairments and who reside in facilities licensed or certified by the Department for Children and Families or in adult care homes and other facilities licensed by KDADS when the perpetrator is not a resident of or on the staff of the facility.
The Missouri Department of Health and Senior Services (DHSS) investigates abuse, neglect, and exploitation of vulnerable individuals 60 and older and people with disabilities between 18 and 59. The Adult Abuse and Neglect Hotline in Missouri responds to reports of abuse, bullying, neglect, and financial exploitation. You can call 1-800-392-0210 365 days a year from 7 a.m. to 12 a.m.
After a person files a report in Missouri, DHSS's Division of Regulation and Licensure staff conducts an investigation. Complaint investigations are handled in accordance with state law, and reports or complaints are typically initiated within 24 hours.
Missouri also provides APS services in certain cases. APS can be provided for adults who cannot carry out activities of daily living, manage their own affairs, or protect themselves from abuse, neglect, or exploitation.
Signs of Abuse or Neglect in a Nursing Home
Common signs of nursing home abuse include:
Physical Abuse — Staff members at nursing homes may be unnecessarily aggressive or even violent in their handling or interactions with residents. In some cases, residents may be injured in assaults or other accidents that result in severe injuries like traumatic brain injuries (TBIs), spinal cord injuries, fractures, sprains, lacerations, or internal bleeding. Signs of physical abuse can include unexplained cut or bruises as well as broken eyeglasses.
Psychological Abuse — When a resident begins exhibiting signs of depression or becomes more reclusive, these could be indications of possible emotional abuse at the nursing home. A staff member may be ignoring their requests or otherwise inflicting psychological abuse, possibly by yelling at a resident, making them feel guilty, isolating them, or threatening violence. Residents may also have to deal with emotionally abusive tactics from other residents.
Neglect — Some nursing homes simply fail to fulfill their basic obligations to their residents. Staff members may not adequately check on residents, and this failure can be dangerous when a resident is left uncared for and possibly engages in behavior that causes personal harm. Failure to properly supervise a resident can lead to disastrous medication errors, but some residents may also exhibit weight loss because they are not being properly fed. Other frequent signs of neglect relate to living conditions, such as dirty or soiled sheets or clothing and unchanged trash.
Sexual Abuse — Families have a right to be concerned about sexual misconduct occurring in nursing homes, but the crime is not always reported. Evidence in these cases usually comes in the form of sexually-transmitted disease (STD) diagnoses, but other signs could include possible bruises or cuts in genital areas, torn underwear or clothing, or unusual behavior on the part of the victim.
Financial Exploitation — A very common kind of nursing home abuse relates to a resident's financial accounts. Certain staff members will exploit relationships with residents for financial gain. Family members should monitor account activity for any large cash withdrawals or other suspicious transactions. Similarly, you should be on the lookout for unexplained changes to estate planning documents.
Types of Compensation Available in Nursing Home Abuse and Neglect Cases
In some cases, nursing home neglect or abuse can result in a new injury or the aggravation of a pre-existing condition. If the nursing home is found to have negligently caused such injuries, the nursing home (and their insurers) may be responsible for payment of medical bills related to the injury or aggravation, money for pain and suffering, and other out-of-pocket expenses associated with the injury.
In some instances, the abuse and neglect may result in a wrongful death. In such cases, compensation may be recovered for both the economic losses of pain and suffering suffered by the deceased as well as a claim for wrongful death by the surviving family members. The family members may recover for items such as loss of services, loss of consortium, and other emotional losses.
Proving Nursing Home Neglect/Abuse
To evaluate whether the nursing home and its employees failed to take reasonable care in their duties, courts in Kansas and Missouri generally apply a negligence statute. In order to prove a case of nursing home neglect or negligence, the plaintiff will be required to prove that (1) the defendant nursing home owed a duty of care to the plaintiff, as nursing homes do towards their residents; (2) the nursing home through its agents or employees breached that duty of care by engaging in unreasonable or negligent conduct; (3) such negligence or unreasonable conduct caused injury to the plaintiff or aggravated a pre-existing condition; and (4) injuries and damages have been suffered as a result of the negligence.
Even where a nursing home owner or director is unaware of an employee's negligence, the nursing home may be liable under the doctrine of respondeat superior, which holds that employers are liable for the negligent acts of their employees.
Nursing Home Falls
When a loved one is admitted to a nursing home, the nursing home has a responsibility to assess whether the patient is a fall risk. The results of this assessment may necessitate certain precautions. Failure to properly assist nursing home residents who have a high fall risk often results in catastrophic injuries, including head injuries and fractured hips. These severe injuries can sometimes result in death. Edelman & Thompson has handled many cases involving improper handling of residents which resulted in needless falls. These cases range from situations where the nursing home fails to take steps to ensure that residents are properly transferred from their bed to a wheelchair, from a wheelchair to the bathroom/shower area, as well as many others. The nursing home should ensure that all transfers are made safely and properly. This requires the nursing home to ensure that there is adequate manpower for the job involved as well as providing for any assistive or mechanical devices.
What is the Time Limit for Bringing a Nursing Home Abuse Case
The general rule in both Kansas and Missouri requires that nursing home cases be brought within 2 years of the date of injury. This is pursuant to the law in both states which requires the claim to be brought within the statute of limitations which applies to medical malpractice claims. Nursing homes are considered medical care providers under the law in both states.
As with every area of the law, there can sometimes be exceptions for these statutes of limitation. Edelman & Thompson recommends that the injured party or a family member contact legal counsel immediately with respect to any nursing home case. This is important not only to make sure you bring the claim within the statute of limitations. It is important to seek out legal representation immediately so that a proper and adequate investigation can be accomplished before any evidence is altered or destroyed.
What to Do If You Suspect Abuse or Neglect at a Nursing Home
Your first concern when you suspect nursing home abuse or neglect is ensuring the safety of your loved one. Do not hesitate to contact authorities or move the resident from the facility when necessary. You should call 911 if you believe your loved one is facing a life-threatening emergency.
You should bring your concerns to the attention of nursing home administrators. Most facilities have procedures in place to address problems, though too often they fail to act on them.
You should file a complaint with your appropriate state agency. When you do this, also be sure that you document everything involved in your case.
Take pictures of any injuries your loved one suffered. Keep any accident reports. Save medical records. Keep a journal relating to your case.
When your loved one has been involved in an accident, if they have been physically or sexually abused, or if they have been neglected and are not properly fed or hydrated, always make sure they receive medical attention.
As soon as possible, contact an experienced lawyer. Legal representation can be very important for families even when state agencies are conducting an investigation. The agency generally only has the power to sanction the facility for violation of laws. An attorney will be necessary to help you pursue compensation for your loved one's mistreatment.
Contact a Kansas City Nursing Home Abuse and Neglect Attorney Today
Did your loved one suffer nursing home abuse or neglect in Kansas City or the surrounding areas of Missouri or Kansas? Our experienced nursing home abuse lawyers want to help you and your family seek the answers, financial compensation, and justice that you deserve.
Edelman & Thompson will fight to help you recover every dollar of compensation your loved one is entitled to. Let us provide an honest and thorough evaluation of your case as soon as you call us or contact us online to receive a free consultation.