Pedestrian Accident Lawyer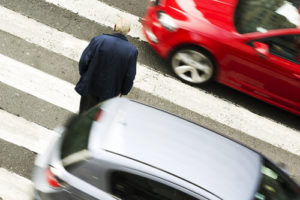 At Edelman & Thompson, our experienced pedestrian accident lawyers represent individuals who are hurt or have lost someone they love due to a driver's negligent actions. As a pedestrian, you should be afforded the right-of-way when crossing the street, and drivers should always be cautious when driving near busy sidewalks, in parking lots, or when backing out of driveways.
When a serious injury accident occurs, at-fault drivers and their insurance companies will usually try to avoid liability and minimize what they pay out. This leaves the victim and their family to deal with costly medical expenses and other financial stress and strain.
If you suffered severe injuries or your loved one was killed in a pedestrian accident in Missouri or Kansas, you could be entitled to compensation for all your medical expenses, lost wages, and other losses. With an experienced pedestrian accident lawyer like the ones at Edelman & Thompson on your side, you can hold the responsible parties accountable for what they've done.
We represent only injured victims, not the insurance companies. It is our goal to seek the compensation you need to pick up the pieces of your life and move on after a pedestrian accident.
The law firm of Edelman & Thompson has five locations in Missouri and Kansas, and we can visit you in your hospital room or home if you cannot travel to see us. Call us or contact us online now to schedule a free consultation to discuss your case with a knowledgeable member of our team.
How Our Pedestrian Accident Lawyers Can Help You
Edelman & Thompson has recovered more than $500 million settlements and verdicts for our clients. We have been rated No. 1 in Kansas City jury verdicts by the Kansas City Jury Verdict Service (Most Plaintiffs' Personal Injury Jury Verdicts, 2012-2017).
Our firm represents clients on a contingency fee basis, so you will not have to worry about paying us anything unless and until you get a financial award. Our fee of one-third in most cases is far less than the 40 or 50 percent charged by many other law firms.
The staff of Edelman & Thompson includes 14 full-time lawyers. Ron Edelman has been recognized as a Top 100 civil litigator by the National Trial Lawyers Association and is licensed in both state and federal courts in Kansas and Missouri. James Thompson is a member of both the Million Dollar Advocates Forum and the Multi-Million Dollar Advocates Forum, both of which are exclusive to attorneys who have secured million and multi-million-dollar verdicts and settlements.
Our firm is prepared to conduct a diligent, independent investigation of your accident to determine how it was caused and who was responsible while collecting all relevant evidence. Then we will negotiate with the negligent party's insurance company for a settlement that covers all your past, present, and future needs, and we will not hesitate to file a lawsuit when an insurer refuses to provide adequate compensation.
Compensation for Pedestrians Hurt in Crashes
Compensatory damages are usually a combination of economic damages and noneconomic damages. Economic damages are financial losses that can be readily calculated and proven, including lost income, medical expenses, and property damage. Noneconomic damages do not have inherent monetary values and are more subjective. Typical kinds of noneconomic damages include pain and suffering, emotional distress, or disfigurement.
Damages can be capped in some instances. Missouri's only cap relates to medical malpractice wrongful death cases, which are capped at $350,000. In Kansas Statute § 60-1903a limits nonmonetary losses to $250,000 for wrongful death actions.
Some cases could also involve awards of punitive damages or exemplary damages. Punitive damages are relatively rare and are awarded to punish defendants for particularly egregious acts of negligence.
Help After a Hit-and-Run Pedestrian Accident
When pedestrians are struck by motor vehicles, the driver is required by state law to stay at the scene of the accident. Some drivers, however, leave the scene of the crash out of fear of the consequences, intoxication, or other reasons. Leaving the scene of a crash, especially when someone is injured, is wrong, and it is illegal in both Missouri and Kansas.
You should get a local law enforcement agency involved as soon as possible after a pedestrian accident. In most cases, police departments will conduct searches of areas around the accidents to locate the offender.
It is also possible that a skilled personal injury attorney could to track down the hit-and-run driver. Lawyers can utilize independent resources and work with law enforcement to find the offender. Attorneys can interview witnesses, obtain any photographic or video evidence, and search motor vehicle records, among other tactics.
When a hit-and-run driver leaves the scene of an accident, they may face severe criminal penalties if apprehended. Leaving the scene of an accident can also be used in a civil action to demonstrate a driver's lack of remorse for their negligence, and juries may feel more inclined to punish the driver for their actions.
In many cases, hit-and-run drivers are never found, despite best efforts to locate them. In such cases, a victim may be able to recover compensation under their auto insurance policy's uninsured motorist coverage (UM). This coverage can apply even when a person was a pedestrian. It may also cover members of the policyholder's household, such as children or a spouse.
Statute of Limitations on Pedestrian Accident Claims in Missouri and Kansas
Kansas Statute § 60-513 and Missouri Statute § 516.140 both establish two years as the statute of limitations for an action based on injury to a person. The two-year time limit does have certain exceptions, however.
For example, one major exception concerns a victim who is a minor. The limitations period for a minor in Missouri can be extended for two years from the date they turn 21 years of age, while a minor in Kansas has two years from the date of their 18th birthday to file suit.
Another exception concerns people who are mentally incapacitated, such as someone who is in a coma following an accident. In such cases, the limitations period begins on the date the person regains capacity instead of the date of the accident.
Missouri will also toll the statute of limitations when a defendant leaves the state. In Kansas, a person's military service obligations can also allow for the tolling of a limitations period, but no action can be filed more than 10 years after an accident.
What to Do If You Were Hit by a Car
Your first concern after any pedestrian accident should be getting medical attention. Even if you do not believe you were hurt at first, you should still visit a hospital for a thorough examination.
Some injuries can involve delayed symptoms, and you should not wait for symptoms to worsen before being treated. Immediate and proper treatment is critical for your health, as some hidden conditions can cause life-threatening complications if left untreated.
You should also collect whatever evidence you can from the scene of the crash. In most cases, the easiest way to do this is to take pictures of the accident scene, including the people, vehicles, and other factors involved in the crash. Get as many photographs as you can from varying angles and distances. If you are unable to do this yourself, ask a friend or someone on the scene to do it for you.
If there were witnesses your accident, get their names and phone numbers.
Another critical consideration after any pedestrian accident is to be especially cautious in speaking about your crash. Avoid publishing any social media posts about your accident, and do not talk to any insurance company until you have legal representation.
Common Causes of Pedestrian Accidents in the Kansas City Area
A report from the Governors Highway Safety Association found that total traffic deaths increased only 6 percent over a recent five-year period, while pedestrian fatalities increased 25 percent during the same period. Pedestrian fatalities also accounted for the largest proportion of traffic fatalities in the past 25 years.
Common causes of pedestrian accidents include:
Distracted Driving Accidents — Careless motorists may take their eyes and mind off the road while driving, and such decisions can often have tragic consequences. Talking or text messaging on cell phones are common distractions, and other distractions include eating, drinking, smoking, grooming, or even talking to other passengers.
Drunk or Drugged Driving Accidents — A person who drives under the influence of alcohol or a controlled substance usually faces criminal charges. If the driver is not convicted, they can still be held civilly liable because the civil case is separate from the criminal case.
Right-Turn Accidents — Pedestrians who are traveling in the same direction as vehicles may be struck by drivers turning right.
Failure to Yield Accidents — Violations of traffic signs or lights are some of the most common kinds of failure to yield. Some drivers may not yield to pedestrians who have the right-of-way, such as people crossing the street in a crosswalk.
Inclement Weather — Some drivers will blame their accidents on rain, snow, or other adverse weather conditions, but it is always a motorist's responsibility to adjust their speed to the conditions.
Victims can suffer a wide range of injuries that may include:
Paralysis
Spinal cord injuries
Traumatic brain injuries
Neck injuries
Internal organ injuries
Fractures
Nerve damage
Sprains
Muscle strains
Road rash
Contact a Kansas City Pedestrian Accident Attorney Today
Did you suffer catastrophic injuries or was your loved one killed in a pedestrian accident in Kansas City or a nearby community in Kansas or Missouri? Turn to the attorneys who so many others have trusted to seek compensation and justice. As one of the city's oldest and most respected firms, we're willing to put our reputation on the line for you. We are here to make sure that those who caused you harm pay for what they've done.
Edelman & Thompson has successfully represented more than 7,500 injured people and obtained settlements or verdicts in 99 percent of these cases. You can have our lawyers examine your case when you call us or contact us online to set up a free consultation.